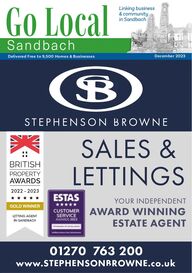 Return to flip book view
Go Local Sandbach - Edition 11 2023
Page 1
Delivered Free to 9,500 Homes & BusinessesGo LocalSandbachLinking business & community in SandbachDecember 2023STEPHENSON BROWNESALES & LETTINGS01270 763 200www.STEPHENSONBROWNE.co.ukYOUR INDEPENDENTAWARD WINNINGESTATE AGENT
Page 2
YOUR LOCAL INDEPENDENT FLOORING RETAILER YOUR LOCAL INDEPENDENT FLOORING RETAILER ALL DOMESTIC FLOORING & ACCESSORIES WINTER DISCOUNT CLEAROUTWINTER DISCOUNT CLEAROUTCARPET • LAMINATE • VINYL FREE UNDERLAY WITH ALL ROLL ENDSQUICKSTEP HYDROSEAL &QUICKSTEP HYDROSEAL &WATER RESISTANT WATER RESISTANT LAMINATELAMINATE FROMFROM££1414.99.99SQ,MTSQ,MTEXCLUSIVEEXCLUSIVESERVICESERVICEROB TAYLOR FLOOR FITTERROB TAYLOR FLOOR FITTERSKIRTING BOARDSSKIRTING BOARDSSTAIRS/MATWELLSSTAIRS/MATWELLSMASTERMASTERINSTALLERINSTALLERFITTERFITTERSERVICESERVICELARGEST STOCKIESTLARGEST STOCKIESTLOCALLYLOCALLY16 DELAMERE STREET, WINSFORD CW7 2LSTEL: 01606 668311www.unlimitedcarpetsandooring.co.uk(T'S & C'S APPLY)
Page 3
www.unlimitedcarpetsandooring.co.ukSPECIALISTS IN RESIDENTIAL & COMMERCIAL PROPERTY LAWGet an instantno obligation quote SELLING A PROPERTY · PURCHASING A PROPERTYRE-MORTGAGES · RESIDENTIAL LEASES · SHARED OWNERSHIPFIRST TIME BUYERS · EQUITY TRANSFER · NEW BUILDSWe're here tohelp you moveQuote "GOLOCAL10" for a 10% DiscountWhy choose us?We oer a xed "no-move no-fee" serviceDedicated fee earnerContact us outside of normal working hours via our AppReduced le loads means more time spent on youEcient, modern, safe and eective processesClose working relationships with all parties All our advice will be comprehensive yet coherentAll aspects of modern technology embracedServing Cheshire atWheelock Business Hub50-52 Wheelock StreetMiddlewich CW10 9ABwww.jpgoldman.co.uk t: 0161 850 5600
Page 4
4In this editionWinter plants with Brian Lowe... 8Business update...Sandbach Motor Factory 10From the bar, with Rich... 12Days Out & Meals Out review... 14Sandbach's heritage... 16Christmas markets... 20Man about town... 22Katy meets... Stephenson Browne 24Sandbach Breakfast Club... 28Unwind with evening reflection... 34Bridging The Gap, Mind Matters... 36Ready reference 38Contacting Go Local SandbachKaty O'Regankaty@archpublications.comDavid Crawforddavid@archpublications.comFor all enquires & bookings 01477 518 252Welcome & Contents01477 518 252 • golocalsandbach.comfor advertising information www.archpublications.comGo Local Sandbach is part ofRemember, if you contact an advertiser, let them know you found them in Go LocalBusiness InsightsScan to Listen & Subscribearchpublications.com/podcastKa xMERRY Christmas, Sandbach! As we draw the curtains on a year sprinkled with both challenges and achievements at Go Local Sandbach, the festive spirit in our town feels more heart-warming than ever. Our journey this year has been akin to a classic Christmas story, brimming with ups and downs but ultimately culminating in triumph and joy.Reflecting on our year's journey feels like a magical sleigh ride. We set off with ambitious goals to be the bridge between local businesses and our community, transforming our magazine into a Santa's sleigh of commerce and opportunities.Embracing both tradition and modernity, our magazine has become a cherished part of local life, proving that the tangible charm of print still resonates in our digital age. As winter wraps us in its chilly embrace, we're staying local this Christmas, revelling in the festive cheer of our town. Breaking from tradition, lamb will be the star of our Christmas feast, accompanied by a sprout tree and a Christmas tree from Brian Lowe at Sparks Lane. We're preparing for a cosy celebration with my parents, complete with festive movies and cherished moments.This season, we raise our glasses to the past year and the new one ahead. Whether you're nestled in the warmth of family traditions or creating new memories, we wish you a season filled with joy, laughter, and community spirit. From our Go Local Sandbach family to yours, a very Merry Christmas!Arch Publications Charity Partner 2023/24
Page 5
Page 6
6Proudly supplying, repairing & servicing every typeof hearing aid since 2007 in Congleton,Alsager, Holmes Chapel,Sandbach & all surrounding areas3 Duke Street,Congleton, Cheshire,CW12 1AP (Next to Greggs) The CongletonHearing CentreAPPOINTMENTS IN OUR TOWNCENTRE SHOP OR IN YOUR HOME Pensioner DiscountsFree lifetime after-care on all hearing aidsWax Removal £30 per ear, no charge for hearing aid customers (in shop only)MON-SAT 9AM - 5PM"We are the only approved Audibel Hearing company in the area" PAY OVER 12 MONTHS INTEREST FREE01270 749 210 • oice@w-heat.com • www.w-heat.comfrom onlyfrom only£25£25a montha monthYearlyServiceControlRepairPlumbingRepairRadiatorRepairBoilerRepairElectricalRepairWe are your local Plumbing, Heating & Electrical specialist!SANDBACH SANDBACH BOILER COVERBOILER COVERIs your boiler cover up for renewal?
Page 7
7WITH 26 YEARS EXPERIENCE IN THE DOUBLE GLAZING INDUSTRY WE ARE THE PERFECT CHOICE FOR ALL YOUR UPVC WINDOWS & DOORSFOR A FREE NO OBLIGATION QUOTE CALL0800 1930221 or 07557 857023DistinctiveWINDOWS AND DOORSVoted excellent on Trustpilotdistinctivewindow0%APRsubject to statuswww.distinctivewindow.co.ukGive your Wreath the doorit deserves this ChristmasA rated as standard | 10 year insurance backed guaranteeDeal direct with company owners | NO PUSHY SALESPEOPLE5 WINDOWS PLUS 1 COMPOSITE DOOR FROM £3250
Page 8
8Winter plants with Brian Lowe...AS the seasons shift, the promise of shorter days and longer nights looms. But fear not, for there are ways to keep our homes vibrant and lively, even as winter takes hold. To uncover the secrets of winter gardening, I met with Brian Lowe at Sparks Lane Nurseries, a master of creating stunning floral displays that defy the dreariness of the colder months.Brian, amidst crafting vibrant tubs and hanging baskets destined for local establishments, greets me with a flourish of garden gloves. His creations, a symphony of colours and textures, are not just displays but stories told through petals and leaves.He introduces me to a selection of plants and flowers specifically chosen for their frost resilience. Our first stop is the winter heather, or Erica carnea. This modest evergreen shrub, brimming with small but vivid flowers ranging from whites and pinks to reds, purples, and golds, is a testament to the adage 'strength in numbers'. Its petite blossoms en masse create a lively tapestry in gardens. Growing up to 50 cm, winter heather is versatile, thriving in beds, containers, and baskets, continuing its vibrant display until April.Next, Brian highlights the unsung heroes of winter hanging baskets: pansies and violas. These hardy blooms are perfect for the cold, offering a spectrum of colours from deep purples and blues to vibrant yellows and oranges. They stand resilient against frost and light snow, always eager to greet the winter sun. Their compact and bushy nature makes them ideal for hanging baskets, where they create a lush, overflowing effect with minimal maintenance. Regular deadheading and ensuring moist soil are all they ask for.Beyond their aesthetic appeal, pansies and violas also support winter-active pollinators, providing a habitat and food source. Their presence in your garden is not just a visual treat but also an ecological boon, reminding us of nature's resilience.Finally, Brian shares his secret touch in creating his renowned baskets: a mix of ornamental grasses. These add an extra layer of texture and a splash of contrasting colour, elevating his designs to more than just floral arrangements but pieces of living art.As I leave Sparks Lane Nurseries, I'm inspired by Brian's passion and expertise. His winter displays are more than just decorations; they're beacons of life and colour, brightening the darkest of winter days.Katy
Page 9
9H & DSATELLITE AND AERIALS01270 417 6100775 696 2878TV Aerial/Freesat/SatelliteInstalls & RepairsTV System Fault Finding &DiagnosisTV System Set UPAdditional SocketsLOCAL, FRIENDLY & RELIABLE SERVICEFOR A FREE NO OBLIGATIONQUOTE, CALL DAVE & HELENwww.hdaerials.co.ukYour Local Automotive Parts DestinationYour One-stop shop for all things automotive!Wide range of parts: from batteries to wipers, reg plates to oil, outside/inside cleaning supplies & everything in between!For every car lover: DIY enthusiast or a professional mechanic.Visit us: 28 Bradwall Road | Call: 01270 762537.Customer FREE parkingRev up your automotive journey with Sandbach Motor Factors – your trusted local motor factors. Let's hit the road together!
Page 10
10Also available winter plants, wild bird food and Mrs Darlington'sLarge selection Christmas trees& wreaths in StockRose & Bluebell silk flowersStocking Christmas door wreaths & grave potsClick & Collect orders can be placed by calling Brian 01477 500455Open 7 days a week, 10am til 4pm | Congleton Road, Arclid, Sandbach CW11 2UJHappy Christmas from Spark Lane Nurseries!We have an excellent range offruit and vegetables available for your Christmas dinner. Pre order your veg box for the big day!Award Winning Jams,Curds, Pickles & Chutneys.Business update...SANDBACH Motor Factors (SMF) has become the ultimate destination for automotive enthusiasts and professionals. This renowned store, located at 28 Bradwall Road, stands as a one-stop shop for all automotive needs, especially as the winter season approaches. As temperatures drop and frost sets in, SMF is ready to help customers get winter-ready. They understand the challenges of the colder months and offer a range of essential products to make winter mornings hassle-free. From effective ice scrapers that make quick work of frosty windows to powerful de-icers that keep windshields clear. SMF's offerings go beyond just winter essentials. The store boasts an extensive selection of automotive parts, catering to every requirement from essential car components like batteries and wipers to more specialised items such as registration plates and various oils. Their carefully curated range guarantees reliability and performance, makes them a trusted resource for both DIY enthusiasts and professional mechanics. For those who take pride in their vehicle's they offer a comprehensive range of car cleaning supplies. High-quality shampoos, waxes, and more are available to keep cars looking their best, even in the winter sludge. For those who love working under the bonnet, the store provides an array of quality tools necessary for a variety of automotive tasks, ensuring efficiency and precision in every project. Customers are invited to visit their store at Bradwall Road or contact them at 01270 762537. The team at SMF is known for their friendly service and expert advice, ensuring each customer leaves well-equipped for the winter season. Katy
Page 11
11Plumley Moor Road, Plumley, Cheshire, WA16 9SD | Tel: 01565 722315 www.visitplumleys.co.uk | info@visitplumleys.co.uk Garden | Gi | Coee Shop @Plumleys @plumleyscafe visit.plumleys Situated just outside the market town of Knutsford, Plumleys is a family owned and run plant and garden centre. We oer plenty of ideas and inspiraon to help you get the most from your garden, whatever me of year. We have a well stocked garden shop oering all you need to keep your garden in p top condion from the brand leaders in garden products and in our lovely gi shop you'll nd plenty of gis for family and friends, be they gardeners or not. Our Cafe is parcularly popular, serving hearty homemade food in relaxed comfortable surroundings. Cosy up and enjoy brunch, lunch, tradional roasts or our homemade cakes and bakes in front of wood burning stoves. Christmas Tree oer  buy your fresh cut Scosh grown Christmas Tree from us this year and we'll give you a voucher to enjoy a free breakfast in our café during January.
Page 12
12Providing roong • Sots, Fascias & Gutters• Storm Damage Repairs• Flat & Extension Roofs• Rubber RoofsFrom the bar, with RichHELLO, and welcome to what will be the last issue for 2023... and hasn't this year just flown by. It doesn't seem 5 minutes since I was in the midst of preparing the bars for the festive madness yet here we are again, 12 months later.Hospitality this year has been a right old mixed bag. If you can allow me to generalise for the whole industry, we've seen a return to normality and pre-covid times from some people, we've also noticed more people go out less often or don't stay out as long. The number of breweries, bars and restaurants closing continues to surprise, with the first half of the year showing some particularly bad numbers. It's hard work in hospitality just now, so the Christmas peak can't come soon enough for lots in the industry. We've seen it here in Holmes Chapel, with the much loved Swan reopening, and then sadly closing months later... yet the flip side of that in Sandbach, sees the Ringers on Welles St on the cusp of reopening back up as the Welles Cross. Great news! Knowing what's been planned for the next couple of weeks running up to the big Ho Ho Ho, I think we're all going to be full of Christmas cheer again this year. There are lots of markets where we can eat drink and be merry. A lot of venues have special events and evenings planned, from wreath making to brewery tasting nights, Christmas-themed drag artists to brass bands. It's going to be a cracking end to the year.I'll leave you with a little festive recipe, one for a homemade gingerbread syrup. This warming sweet syrup is a great little addition to your fridge and can be added to all sorts of drinks and treats to give them a little Christmas kick. Put 3 sticks of cinnamon and a tablespoon of allspice in a dry pan and toast for 2-3 mins on a medium heat until they're nice and fragrant. Add 1.5" ginger root cut into big chunks, 150g of brown sugar and 200ml of water to the pan turning the heat down. Simmer for 18-20 mins until it's thickened and all the sugar's dissolved. Strain into a sterilised jar, and leave in the fridge when cooled. Add this to a hot chocolate, a milky coffee or make a rather naughty Christmas martini by adding a shot of syrup to a double vodka and some single cream or Bailey's! Shake over ice, and pour into a martini glass with a glace cherry on top! One very Merry Christmas coming up! Rich, The Beer Emporium
Page 13
13Providing roong services across the delivery area of Go Local Sandbach & CheshireRENEW • REPAIR • REPLACEOUR SERVICES• New Roofs & Re-Roofs• Lead & Chimney Works• Sots, Fascias & Gutters• Storm Damage Repairs• Flat & Extension Roofs• Rubber Roofs01477 518 157 • 07709 767 236info@prestigeroofingcheshire.co.ukprestigeroofingcheshire.co.uk Prestige Roofing Cheshire
Page 14
14Days Out & Meals Out reviews...AFTER flicking through the Go Local's sister publication, The Villages Mag last month, I saw Plumleys advert and it reminded me that I hadn't been for a while so I headed over to Plumleys for a look around their garden centre and to treat my mum to a yummy lunch.Plumleys is a family business located just outside the beautiful town of Knutsford. Owned and run by Gold RHS winning designer Andrew Yates and his wife Eloise.The garden centre is the home of a fantastic, large plant nursery selling everything you could ever need for your garden. Outside, there are bedding and pot plants, fruit trees, herbs, planters and pots galore. Inside ,there are all the tools you would need to tend to your garden, whether it's a new trowel or spade you're looking for or some cute signs to label up your seedlings. The friendly, knowledgeable staff are on hand to help and advise should you require.Inside the shop we also had a good look around all the lovely home accessories and gifts they had on offer, it was a treasure trove of lovely items by the make of Gisela Graham plus many other gorgeously made items. They had a beautiful display of autumn and Christmas items in stock. There was plenty of choice of house plants, too, ranging from big palms to the cutest cactuses.Walking through the shop, you will soon get to the Cafe at Plumleys. This cafe has cosy indoor seating with a real log fire set in the middle. On warmer days, you can sit outside, which is in a large poly tunnel, so still protected from the rain.It's a great menu, offering lots of choices. Including breakfasts, sandwiches and toasties but not just your standard fillings, I spotted a chicken, bacon and egg club! Plus their ever popular burgers and lovely warming meals like Bourguignon Pie and loaded fries.My mum ordered their quiche, which was salmon and dill, served with roasted new potatoes and creamed leeks. And on a day when it was cold and wet outside, this meal was seriously tasty comfort food.I went for Plumleys Welsh Rarebit. Granary toast loaded with Black Sheep Ale rarebit sauce topped with streaky bacon. The cake counter was rather tempting with treacle tarts, a white chocolate, almond and blueberry cheesecake and slices of school chocolate crunch.The Cafe at Plumleys was in the list of top ten cafés and coffee shops in Mid Cheshire in the Northwich Guardian in August and I can totally tell why.Obviously, I will be heading back soon, just so I can try out another yummy lunch from their menu...Jenny, Days Out and Meals Out Reviews Garden Centre, Home, Gift Shop & Cafe at Plumleys serving gorgeous food.Open Mon – Sat 9:30 – 4:30. Sun 10 – 4 Plumley Moor Rd, Plumley, Knutsford WA16 9SD www.visitplumleys.co.ukYou can find more reviews on my Facebook page & Instagram, search 'Days Out and Meals Out'
Page 15
Page 16
16BOXING Day customs and historical maps. How could these combine and link with Sandbach? Traditionally the day after Christmas means outdoor sports, with horse racing a typical festive fixture. And maps - they really surprise if vanished features are revealed. A racecourse here was unexpected! So, Sandbach was once home to The Races? Yes, in the early 1800's. Where this excitement happened is intriguing: just north-east of the original core of the town, bounded by Congleton Road, in the present Gawsworth Drive area. Nearby Sandbach Park was not established until the beginning of the following century. Although uncommon, Sandbach didn't possess the only racecourse in Cheshire. Another was laid out on Knutsford Heath, and Chester's famous circuit had already been hosting horses for several centuries. Neither, it seems, was local racing a winter holiday activity but very much an annual, late September one. Surviving handbills are a treasure. The oldest is from 1818. By then, Chester had a grandstand for spectators. Here, a carnival, with humbler origins, was held over three days - Tuesday 29 September to Thursday 1 October. Runners had to be officially entered at the Red Lion on High Street (now the Lion), but this could be done up to the morning of the first race, events starting at 2:30pm. Whips were allowed. First to compete for a 'valuable cup' were ponies, twice round the course! Last race was for carthorses, thoroughbreds being not yet the norm. The winner's prize? 20 shillings (around £60 now), equivalent to a week's wages for a skilled tradesman. Two hundred years ago almost exactly brings us to…1824. That September a colourful feature was a Silver Cup race for serving horses of the 2nd Cheshire Regiment of Yeomanry and Cavalry. Members of that Regiment were to ride in Drill Dress. Yet… fun and money was not solely on the turf. For the middle day of the festival, a balloon was scheduled to ascend to the skies and thrill onlookers. Gas ballooning was then hugely popular at entertainments. Sandbach was no exception. The final meeting was held in September 1853. Already by the mid-19th century, for locals and those further afield, it was the end of an enjoyable era. Meanwhile Chester continued to expand, taking Cheshire's horseracing crown.Fascinating to imagine, that same ground that thundered to horse hooves and noise of crowds – and even witnessed the spectacle of a balloon rising - is now a modern, far quieter, residential estate. Perhaps those curving lines of streets somehow hark back to its former shape? Julie Elizabeth SmalleySandbach's heritage...
Page 17
17A family fm CHANCE HALL FARM, CHANCE HALL LANE, CW12 4TLTHE MILK SHACK@ HALTON FARMSfarm fresh pasteurised milk, buer, milkshakes, cheeses, local produce, coffee, merchandise & more...scan meto find usOPEN EVERY DAY 4.30am - 9pma visit to halton farms is not just about our delicious milk! you can meet our cows and see the next generation in the calf nursery. our team, behind high welfare farming, are always around to answer questions you may have. listen now athaltonfarms.com/podcast
Page 18
18R.S.C.Lawn & Hedge CuttingServices plus GeneralGarden Tidy-ups• Building Waste • Garden Waste • Scrap Metals/Vehicles • House Clearances • Sheds & Garages RemovedFor a Realistic Quote Please Call:07907 939536Email: steptoe153@gmail.comWaste RemovalLICENSED CARRIERTo book call Michelle on07411 373711Services IncludeMicroneedling, Skin Peels, Dermaplaning, Antiwrinkle Injections, Dermal Fillers (Lips, Nasolabial & Marionette Lines) & Fat Dissolving. Fully insured &qualified aestheticpractitionerFind us on Facebook Pyramid AestheticsInstagram pyramid_aesthetics01606 212 232Unit 4, Midbrook Way, Middlewich, CW10 0GRwww.rokplumbingsupplies.co.ukWe oer a wide range of products for all budgetsBathroom Design serviceFull supply and t installationsOpen to the Public and TradeFree and friendly advice!Over 40 years experience
Page 19
.C.We oer a wide range of products for all budgetsFull supply and t installationsWILL WRITING • WILL TRUSTS • ASSETS TRUSTPOWER OF ATTORNEY • INHERITANCE TAX PLANNINGTelephone 01270 667 912 or visit www.sanctuarytts.comSanctuary Tax & Trust Services Ltd, 41 Lawton Road, Alsager ST7 2AAAs the cost-of-living spirals and more of our children struggle to get a footing on the property ladder it is now more important than ever to plan our family's inheritance. The team at Sanctuary Tax & Trust explain how many families nd themselves victims of avoidable losses and why simply writing a will does not guarantee our family will inherit as we wish.For the vast majority of people, we spend all our lives working to build up wealth, through property, savings and pensions we look at providing nancial security for our families and when our nal day arrives, we hope these assets will pass to the people we care about the most, partners, children, relatives and friends. Traditionally, people have chosen wills to document their wishes and while writing a will is important, it does not provide any protection for the assets within it.Considerations when planning InheritanceCare Fees – As we live longer the likelihood of needing care becomes greater and under the government's changes to the social care act should the need for care arise, we could see our asset taken down to just £14,250. The new assessment process will see everybody with property and savings over a combined value of £23,250 being required to pay for their care.Relationship Failure – When passing assets purely through a will we see many leaving their assets to their children but not giving consideration to what would happen if one of their children was to divorce. This can lead to a child seeing half of their inheritance in the hands of an ex-partner and in the event of early bereavement this can lead to grandchildren being disinherited.Inheritance Tax – The current IHT framework can be complex and unknowingly people can leave their children and even grandchildren with an Inheritance tax issue.Probate – The cost of probate as risen dramatically over the last few years, and it can be a lengthy and drawn-out process. On average, with a valid Will, probate will typically take 6 – 12 months to complete, without a Will it may can take up to 2 years.Its Never the Wrong Time To Do The Right Thing – While people appreciate that inheritance planning is important many will delay seeking the correct advice. By putting o arranging our aairs we run the risk of running out of time, or in the event o illness, seeing our options dramatically reduced.Why Sanctuary Tax & Trust Services? With over 20 years of experience in Estate and Inheritance planning we have helped families in the area protect their assets and plan their inheritance in the most cost-eective way. While the individual family's circumstance may vary, the one constant is that each family aims to provide the maximum amount of inheritance possible without the stress of complexed legal jargon.
Page 20
20Christmas markets...WRAP up warm and head out into the streets this festive season for your Christmas Shopping. Hug your hands around a mulled wine or hot chocolate, make a little business jump with joy when you buy a handmade gift and stand listening to a school choir singing "Silent Night"Sandbach Christmas Market - 1st Dec There will be more than 100 stalls to explore around the market square, High Street and Market Hall. Also enjoy the smell of roasting chestnuts, whilst listening to the carol singers and sipping on mulled wine.Rode Hall Christmas & Farmers Market - 2nd Dec 9.30-1.30pmOur Christmas Market will be full of mistletoe, mulled wine & mince pies! There will be over 80 artisan food & craft stalls. The Rode Hall Silver Band will be playing alongside Smallwood School Choir and the courtyard kitchen will be open serving breakfasts, brunches & seasonal treats.Holmes Chapel Christmas Market & Fair -3rd Dec. 3-7pmThe closed off streets are filled with small businesses selling food, drink, crafts & gifts for Christmas. Live performances from dancers & singers. Fairground rides and Santa on his sleigh. Hayhurst Arms in Middlewich -Sat 9th Dec from 4pm - 8.30pm. Local stalls, live music, mulled wine, hot food stalls. Knutsford Christmas Market - 2nd & 3rd DecBring the festive spirit to life at Knutsford annual Christmas street market. More than 100 traders will be attending with their finest selection of food, drinks, crafts & gifts. Northwich Artisan Market - 9th Dec 10-4pmWitten Street is full of over 100 stalls of gifts. Head to Barons Quay for street foodThe Legh Arms Knutsford Christmas Market -10th & 17th Dec Lots of local stalls selling gifts for Christmas. Prestbury Christmas Fair - 10th Dec 2 - 6pmFestive Stalls, Food & Drink, Art & Crafts and Entertainment.Tatton Park Christmas Gift Fair - 1st-3rd Dec Explore the Tenants Hall inside the stately mansion house, which is not usually open to the public.As you step inside, you'll be greeted by a festive atmosphere, twinkling lights & a variety of local suppliers selling everything from jewellery to candles and crafts to gin.Wilmslow Winter Wonderland - 8th -10th DecIce Rink, Santas Grotto, Stalls, Street Entertainment By Wilmslow's Way BetterWilmslow Artisan Market - 18th Nov & 16th Dec Wilmslow Artisan Market takes place on the third Saturday every month. The November event coincides with the festive light switch-on event in Bank Square. While the December market takes place on the last Saturday before Christmas, perfect for picking up some last minute treats or gifts.Manchester Christmas Markets - 10th Nov - 21st Dec There are more than 300 Yuletide stalls & chalets offering crafted seasonal gifts & mouth-watering international food.Chester Christmas Markets - 17th Nov - 21st Dec Chester's magical Christmas market with 70 traditional wooden chalets in the streets of Chester surrounding a signature sparkling, Christmas tree.Jenny, Days Out and Meals Out Reviews
Page 21
21Shanty Farm, Byley CW10 9NG01606 832874www.lowesfarmshop.comEat inside or outdoor in our covered seating areaOrder from the counter or on the website:www.gingerandpickles.co.ukBREAKFASTS, BRUNCHES, LUNCHES,COFFEE, CAKES & AFTERNOON TEASEverything you would expect from our farm shop.Freshly pickedjust for youA wide range of home-grown seasonal veg and local suppliers such as Chatwins pies & cakes, Jo's cakes and our wonderful Butcher.Come & see the Reindeer9th and 10th of December10.00am - 2.00pmChristmas2023 at LowesVisit ourgiftshop t!
Page 22
22Man about town...IT'S the most wonderful time of the year. Not my words. The words of the late great singer Andy Williams. Ok, the lyrics tail off pretty rapidly after that (what on earth does "with the kids jingle belling, and everyone telling you be of good cheer" mean?), and I now can't help but follow the opening line with "on the beach, on the beach, on the beach, on the beach" thanks to that stupid advert, but the sentiment is there, because Christmas truly is a magical time.Depending on when this fine publication happens to land on your doorstep, the chances are the Christmas lights which adorn the centre of town each year have already had their official 'Switch On' event, because that is/was scheduled for Saturday 25th November, but with any luck I've caught you in sufficient time to publicise the Christmas Market, taking place on Friday 1st December between 3:00pm – 8:00pm.This year's market promises to be bigger and better than ever, with more than one hundred stalls spread throughout the town offering hand-made decorations, unique gifts, and sweet treats, plus all the usual Christmas fayre from a traditional hog roast and chestnuts, to mince pies and mulled wine. Not that anyone actually likes mulled wine, mind you, we just tolerate it because it's Christmas, but that's part the of the charm, I suppose (see also: sprouts).There will be music from the brass band, traditional carols sung by a choir and, if you're very lucky, you might even catch a glimpse of the big man himself. How he finds the time to drop by our grotto each December, when he must be run off his feet organising all the elves and presents ready for Christmas Eve is a miracle, but then again, he is magic.If you do miss out on the Christmas market for whatever reason, there's always the Christmas Party Night taking place at the Town Hall on Saturday 9th December to look forward to, with a glass of festive fizz on arrival, delicious two-course meal, and a professional DJ to help you dance the night away – just so long as he plays the finest Christmas song of all time at least twice throughout the evening, that is.*Until January (assuming the editor, Katy, invites me back and hasn't grown weary of my sense of humour by now), I'd like to wish all Sandbach residents a peaceful and Merry Christmas, and a very Happy New Year.See you all in 2024, and thanks for reading throughout the past twelve months.Greg Hall, Mercury Copywriting Services*by Shakin' Stevens, obviously.
Page 23
23The Probus Club – Sandbach branchAn opportunity to enjoy like-minded company, regular social events and activities, plus fine guest speakers and refreshments at our monthly meetingsAn active bowls section which plays all year round .No experience necessary! Members meet every 2nd Tuesday in the monthFor more information Call 01270 765330 or visit www.probus-sandbach.org.ukA social club for retired professional business peopleNow Welcoming New Members RETIRED PROFESSIONAL AND BUSINESS PERSONS CLUBSPROBUSDOMESTIC · COMMERCIAL · INDUSTRIAL REWIRES · NEW INSTALLSINSPECTION & TESTINGCCTV · SMART HOME INTEGRATIONFULLY INSUREDLocal family business offering consultation for indoor & outdoor electrical projects. Working with you every step of the process until completion.FULLY APPROVED ELECTRICIANFullyWiredCheshire07989 174875info@fully-wired.co.ukTrusted to deliver Go Local Sandbach,Go Local Middlewich, The Villages Mag & Beartown VoiceWe'll get your messagethrough the right doorWe also print,go to our website for more infowww.theleaetteam.co.uk07876 688521info@theleafletteam.co.uk
Page 24
24Tailored acvies to smulate the mind, and encourage meaningful meRespite sits to oer a break to unpaid Carer's & family membersHome and environment assessment and advice to promote comfort & safety, and help manage changing perceponsSupport and Networking groups, to give unpaid Carer's and family members the opportunity to learn, and meet other people in a similar situaonableFind the Careand Supportyou needOur Missionand meeng local demand for support by providing a high quality, exible service.Our team is led by a group of local, experienced managers, with average experience of over 20 years, who share a passion to enable people to live in their own home, because we believe that to reach the greatest level of independence, an individual's own environment is the best place for them to be.As a well established, independent organisaon, we have the security and autonomy to adapt, and work exibly in ways that are the best for our customers and colleagues.Meal PreparaonMedicaonPersonal AssessmentDomesc SupportPersonal careHome AssessmentHome and Environment AdviceAbleminds Champion ServiceOur MissionAbleminds provides services specically for those living with the eects of demena. This includes the person with symptoms/diagnosis, as well as those around them.ablewellcare.com/servicesreferrals@ablewellcare.comablewellcare.com/servicesrachael@ablewellcare.comWe provide full consultaon and assessment, before building a Support Plan and care arrangement plan to meet your needs. For more informaon, contact our friendly team:Katy meets...IT seems like only yesterday when I first met Belle from Stephenson Browne Estate Agents, in the centre of Sandbach, and now as we wave goodbye to 2023, it's evident how far they've come this year. Belle's promotion to branch manager has been a defining moment, propelling the team to new heights.Looking at the figures, the story of their success unfolds. Reflecting on 2022 and 2023 to date, both instructions and sales are up. With several months still left on the calendar, those numbers are only set to rise.What's the formula for their success? It boils down to unyielding teamwork and a commitment to excellence. Belle, with the help of her dependable colleagues Alison, Cathy, and the newest team member Jessica, have honed a method that keeps clients at the forefront. Their proactive approach in communication is key, especially in the often high-tension process of buying or selling a property. Belle and Alison take great care to grasp every homeowner's individual needs from the moment they meet them during the valuation, ensuring they're not just facilitating a transaction but supporting a life-changing event.Their involvement in the local community has fortified their 15-year bond with the town. Whether it's through the 'Go Local Sandbach' magazine, supporting Sandbach football team or being visible at significant events like the Coronation and Sandbach Pride, they've woven themselves into the fabric of the community. The positive buzz and the accolades from satisfied clients aren't just good for business—they're the seeds for future industry awards, something Belle has her eyes firmly set on for 2024.Independence is another cornerstone of their success, according to Belle. This autonomy allows them to make prompt, bespoke decisions that serve their clients' interests best—something that often sets them apart from their corporate counterparts.During our annual sit-down, a poignant moment unfolded as a buyer walked in to collect the keys to their new home in Sandbach. Witnessing the team share in the joy of such a milestone was truly special. It's clear that for Belle and her team, it's about more than just sales—it's about making memorable moments.As 2023 draws to a close, the future of the housing market remains unpredictable. However, the dedication of Belle and her team is anything but uncertain. Their resolve to assist their sellers and buyers, to keep transforming those listings into homes and making the journey as smooth as possible, stands unwavering. It's this steadfast commitment that assures me, regardless of market trends, Stephenson Browne will continue to shine as a beacon of service and integrity in Sandbach's property scene.Katy
Page 25
25Tailored acvies to smulate the mind, and encourage meaningful meRespite sits to oer a break to unpaid Carer's & family membersHome and environment assessment and advice to promote comfort & safety, and help manage changing perceponsSupport and Networking groups, to give unpaid Carer's and family members the opportunity to learn, and meet other people in a similar situaonablewellFind the Care and Support you needOur MissionTo enable people to remain in their own home, and meeng local demand for support by providing a high quality, exible service.Our team is led by a group of local, experienced managers, with average experience of over 20 years, who share a passion to enable people to live in their own home, because we believe that to reach the greatest level of independence, an individual's own environment is the best place for them to be.As a well established, independent organisaon, we have the security and autonomy to adapt, and work exibly in ways that are the best for our customers and colleagues.Meal PreparaonMedicaonPersonal AssessmentDomesc SupportPersonal careHome AssessmentHome and Environment AdviceAbleminds Champion ServiceWhy ablewell cares?Living with dementia?Our MissionAbleminds provides services specically for those living with the eects of demena. This includes the person with symptoms/diagnosis, as well as those around them.ablewellcare.com/servicesreferrals@ablewellcare.com01625 669854ablewellcare.com/servicesrachael@ablewellcare.com01625 469300Making time meaningful. Motivating the mind.We provide full consultaon and assessment, before building a Support Plan and care arrangement plan to meet your needs. For more informaon, contact our friendly team:
Page 26
26Call us today to arrange your will... 01270 814 488or contact us online... info@thehappywillcompany.co.ukwww.thehappywillcompany.co.ukWe keep it simple to help protect your families future. If you need to write a Will or update your existing Will – single Wills from £149Limited time offer for over 65sNew Will or Will Amendments£149 £39Are you looking for a little help or support from a local care company? Blueberry Care can offer services from respite to longer term support.
Page 27
SPACE FOR EVERY STORYTELLER:Join the Go Local Sandbach Odyssey!Ready to join our intergalactic crew? Beam us your thoughts(or an email) at katy@archpublications.com.Let your creativity soar and illuminate our magazine's universe!Ever dreamt of your stories taking a celestial journey to 9500 homes in Sandbach, much like a spacecraft twirling around the Earth? Go Local Sandbach is on an interstellar search for spirited individuals to become regular contributors to our magazine. Whether you're a word smith or just starting out, if you have stories as mesmerizing as the mysteries of space, we're looking for you!No matter your forte – be it the tranquillity of gardening, the thrill of exploring local trails, the innovations of technology, or the allure of beauty tips – we're eager for tales that are as exciting as a space-walk. So, if you have a story that's yearning for lift-off, we're ready to rocket it into the hearts of the Sandbach community.Embrace this stellar opportunity to share your passions and create a constellation of connections. At Go Local Sandbach, every story is a star in our magazine's galaxy, and every contributor, a brave astronaut in their own right.Worried about writing, English, or grammar gremlins? Fear not! As someone who dances with the stars of dyslexia and storytelling, I believe these challenges are mere comets on your cosmic journey. We provide proofreading support, like a trusty co-pilot from mission control, ensuring your writing voyage is as smooth as a glide through the cosmos.
Page 28
28Sandbach Breakfast Club...THE Royal British Legion started the Sandbach Breakfast Club based in The Military Arms in October 2022. In May 2023, The Armed Forces Veterans took over the administration and the club has gone from strength to strength in supporting local veterans and their community. Thank you to The Royal British Legion Committee for their continued support especially, Marjorie and Ange Newton.The aim of The Armed Forces Veterans Breakfast Club (AFVBC) is to give serving Armed Forces and Veterans a place to go on a regular basis to come together and have a catch up with past comrades as well as indulge in time together with the friendship and banter that we all made our own when serving, along with the inclusion of a hearty breakfast and free flowing tea, coffee and juice.Our purpose is to facilitate veterans and serving Armed Forces personnel to meet face to face in a relaxed, safe, social environment, to enjoy breakfast and banter, to combat loneliness and allow veterans to ''return to the tribe'' There is no sign up required just come along say Hi and meet other Veterans from the area.All services including family members are welcome. It is always good to meet the family members who have supported the men and women of the Navy, Army and RAF in the past.We regularly have guest speakers who can raise awareness of support and share local knowledge of events in and around the Sandbach area.Thank you to a recent guest speaker, Vicky from Bridge The Gap and JWC Health and Fitness for visiting us recently.Our invitation extends to our friends from The Royal British Legion, The Cheshire Regiment and Comrades Association and members of other local AFVBC groups around the Cheshire area. Our invitation extends to our friends from The Royal British Legion, The Cheshire Regiment and Comrades Association and members of other local AFVBC groups around the Cheshire area.Our recent meet saw the motorcycle riders from the Cheshire Regiment start the weekend of their Remembrance Ride from The Military Arms.Marjorie Newton, John Lynch, Sean Thackwell, David Crosswaite who is the Military Veterans Champion and can be found at Ashfields Primary care centre. Enjoy a coffee morning at Elworth Grange Care home with residents and Suzy the home activities coordinator.Armed Forces & VeteransSandbach Breakfast ClubOur next breakfast club meeting: Sat 23rd Dec Come along to The Military Arms, Congleton Road, Sandbach CW11 1HJ. We meet from 09:00hrs with your breakfast being served from 09:30hrs. Please ring ahead to book your breakfast 01270 765442Follow us on Facebook 'Sandbach AFVBC'
Page 29
29BUILDING & MAINTENANCE Residential Design ServicesNew Builds · ExtensionsLoft & Garage ConversionsLayout AlterationsKitchen & Bathroom Designs30+ Years of Industry ExperienceBuilding Control ApplicationsPlanning Applications3D VisualsTHE LENCH BUILDING GROUP HAVE THE JOURNEY OF YOUR HOME IMPROVEMENT COVERED.OUR DESIGN PARTNER.OUR BUILD PARTNER.Barn Conversions · New BuildsBuilding & MaintenanceSmall Works & RenovationsTurn Key Projects · Brick Cleaning01782 785347www.ttlbuilding.comUnit 3, West Avenue, Talke ST7 1NT07990 978873www.wildgoosearchitecture.co.uk
Page 30
301 Chamber MagazineTHE CHAMBER OF CHOICEFRIDAY 22ND MARCHAWA R DS2024ANNUAL CHAMBER BUSINESSTo be held at DE VERE CRANAGE ESTATE, BYLEY LANE, HOLMES CHAPEL, CW4 8EW6:45pm onwardsVisit our Business Awards page on our website eastcheshirechamberofcommerce.co.uk/business-awards-2024Download and complete the nomination form for your own or another company you wish to nominate. Email this to liz.longmore@eastcheshirechamber.co.ukFIND OUT MORE
Page 31
312 Chamber MagazineBUSINESS OF THE YEAR AWARDEXCELLENCE IN CUSTOMER SERVICE AWARDEMPLOYER OF THE YEAR AWARDPROGRESS TOWARDS CARBON NEUTRALITY AWARDSTART-UP BUSINESS OF THE YEAR AWARDSMALL BUSINESS OF THE YEAR AWARDEXPORT & INTERNATIONAL TRADE AWARDTRAINING AND DEVELOPMENT AWARDYOUNG PERSON/APPRENTICE OF THE YEAR AWARD PROFESSIONAL SERVICES AWARDCHARITY OF THE YEAR AWARDCATEGORIES FOR ENTRYTHE CHAMBER OF CHOICE
Page 32
32Community matters... A Lench charity gAN Unforgettable Day with A Lench Building Contractors: Golf, Charity, and Community.As the season turns, A Lench Building Contractors marks it with their anticipated annual golf day. A tradition that brings together staff and clients to rally behind a worthy cause. This year, our venue was the splendid Carden Park Hotel. I must admit, golf isn't my forte, but the significance of being part of this event was undeniable.This year's charity was Prostate Cancer UK, a cause close to their hearts. In 2022 they lost a member of their team Peter Martin, who was Health and Safety manager, to the disease. For Adrian, the company's director, Peter wasn't just an employee, but a close friend.Our eventful day started at the Club House, complete with a breakfast of bacon sandwiches. Here, I had the privilege of chatting with Adrian Lench, who shed light on the core objectives of their initiative – strengthening client relationships, raising funds, and driving awareness for their chosen charity. Their business, multi-dimensional in its approach, engages with developers like David Wilson Homes, Redrow, and Jones Homes, overseeing projects from inception to completion.In addition, A Lench has carved a niche in domestic services through a branch of the business called TTL. From extensions, loft conversions, to comprehensive home renovations, TTL's breadth is impressive. A Lench's extensive capabilities significantly bolster these home projects, with an edge in material procurement and a skilled team that ensures smooth project progression.Another part of the business is Wild Goose Architecture, steered by the seasoned Architectural Designer, Chris Rye. With over three decades under his belt, Chris's involvement adds immense value. He collaborates closely with the construction team, ensuring client visions come to life perfectly.The golf day saw many familiar faces, long-standing clients, and suppliers of A Lench. Their conversations echoed a deep respect for Adrian and his team. The overwhelming number of hole sponsors, the generous monetary contributions, and the auction items bore witness to the community's trust in A Lench.As the golfing began, we made our way to hole 17, the starting point for the day. We cheered and supported players with refreshments as they traversed the course. The day's mood remained buoyant despite the weather's minor hiccups. A memorable moment was the appearance of former footballer Matt Le Tissier at hole 17. A veteran with eight England caps and 161 goals for Southampton FC, he was there, supporting A Lench in their charitable endeavours.Post-golf, The Shooting Lodge at
Page 33
33ty golf day Carden Park was abuzz with attendees. The night featured a charity auction filled with sports memorabilia, a sumptuous BBQ, and Matt Le Tissier captivating us with tales from his footballing days. Despite my limited football knowledge and golfing skills, I was thoroughly entertained, a testament to the engaging nature of the day and its participants.As the day wrapped up, the collective efforts culminated in raising £12,500 for Prostate Cancer UK. These funds play a pivotal role in advancing research aimed at curtailing the fatality rate of prostate cancer. Prostate Cancer UK is committed to discovering enhanced treatments and early detection tests that can be pivotal in a screening process, potentially saving countless lives.What became strikingly apparent throughout the golf day was the profound bond shared within the A Lench community. Beyond professional affiliations, there exists a familial connection. The depth of their relationship was truly illuminated by their collective commitment to honouring the memory of Peter Martin. It's a testament to their belief that Peter's legacy can drive a brighter future, aiding countless men and their families in their battle against prostate cancer.Katy
Page 34
34Unwind with evening reflection...AS the day draws to a close, before it's time to recharge your mental and physical batteries, there's a quiet opportunity to pause and find solace in reflecting on the events that have passed. Evening journalling serves as a bridge between the day's activities and the calmness of the night. Dedicating a few moments to put pen to paper can reduce the impact of daily stresses, release emotional tension and pave the way for restful sleep.Journalling for Relaxation and Peaceful Slumber - Evening reflection journalling involves revisiting the day's events, emotions and interactions. It's a quiet ritual that allows you to decompress, process your thoughts and put closure to the day. Your words can take on any thought or topic, including gratitude, acknowledging challenges, celebrating successes or setting intentions for the following day.The purpose of an evening reflection is to empty your head of the mental baggage accumulated since you woke. Niggling thoughts can often take up residence, preventing us from winding down sufficiently, causing broken sleep and impacting how we feel the following morning.Using a journal as an outlet to transfer emotions and clear your head protects it from launching into overdrive at the most inappropriate time. Evenings also offer unobtrusive time to relish the joys experienced throughout the day. Keeping a record of what you've accomplished, learned and overcome is a great way to stay motivated and positive long-term.The Benefits of Reflecting in the Evening • Stress Reduction: reflecting on the day's events and expressing thoughts on paper helps release built-up stress and tension.• Enhanced Sleep Quality: unburdening your mind creates an environment favourable for restful, revitalising sleep.• Mindfulness and Self-Awareness: paying attention to your thoughts and feelings enhances self-awareness and promotes mindfulness.• Gratitude: expressing gratitude for the positive moments and people in your day encourages an enhanced outlook.• Setting Intentions: reflecting on experiences allows you to set intentions for the next day, giving you a sense of purpose and direction.A Reflection Exercise - Before retiring for the night, find a cosy, quiet space to journal. Reflect on your day and write down what brought you joy, what tested you and what you're looking forward to tomorrow. There is no time limit. Compose for as long as you feel called to.Over time, you may notice patterns emerging in what pleases you and causes tension. Spotting these patterns allows you to act differently and improve outcomes. Each entry is an act of self-compassion and a reminder that you deserve a moment of stillness amid life's hustles.Next month, we'll look at the benefits of bullet journalling for business and personal wellbeing..Anna WoolliscroftYou can find me on Instagram, TikTok or Facebook: @JournallingWithAnna
Page 35
35DOES YOURBUSINESSHAVE SOMETHINGTO SAYTHIS JANUARY?REACH 9,500 HOMESBY SAYING IT WITHGO LOCAL SANDBACHSPEAK TO KATY OR DAVIDTODAY ON : 01477 518252WWW.ARCHPUBLICATIONS.COM
Page 36
36Bridging The Gap, Mind Matters...EMBRACING Cold, Wet, Dark Evenings: with Bridging the Gap with Mind Matters CIOAs the days grow shorter and evenings become a canvas of cold, wet darkness, many find themselves grappling with the challenges of the winter season. However, amidst the chill and gloom, we want you to know that Bridging the Gap - Mind Matters CIO is an an organisation that seeks to bridge the gap for mental health and be a solution to those struggling as an early intervention.The onset of winter brings with it a unique set of challenges. Cold, wet evenings combined with darkness setting in early can cast a shadow on one's mood and well-being. The lack of sunlight and the temptation to hibernate indoors can contribute to feelings of isolation and lethargy. It's during these times that the importance of looking after your mental health becomes evident.Bridging the Gap: Mind Matters CIO provide counselling and physical therapy through our Respite Programme. Allowing you to develop coping mechanisms and healthy habits whilst integrating into a community of people who care.Your health, both physical and mental, should not be neglected - especially through the winter months.We are dedicated to educating and empowering individuals. Winter blues often stem from a lack of understanding about mental health and the resources available. Equipping people with the knowledge and tools to navigate the winter months with resilience by embracing the winter season with a proactive approach. We are truly bridging the gap between the challenges of the season and the mental health of individuals.Take a look at our website to find out more if you or someone you love is currently going through hardship and could do with some additional support to get through.Take a look at www.BTG-mindmatters.org to complete an application.
Page 37
37Thank You for 2023Merry ChristmasfromKaty, Ma & David xGo Local Sandbach
Page 38
3824/7 Emergency Callout•Locked Out•Lock RepairsUpgrades•UPVC Door & Window Repairs •Smart LocksLOCKSMITH SERVICES I am your local, trusted & highly rated Locksmith. I am DBS Police approved & fully insured for your peace of mind. I do not charge a call out feeCall James on: 01606 614 061 or 07392 686410jschoeld@lockforce.co.ukwww.lockforce.co.uk/locksmith/Middlewich/WE REMOVE ANYTHING...Furniture, appliances, pianos,sofas, beds, wardrobes, DIY wasteand all rubbish removedWE CLEAR-OUT ANYWHERE...Homes, offices, shops, garages,gardens, los etcwww.monsterjunk.comAerials, Satellite, TV & InternetH&D Satellite & Aerial Services 9ArchitectWildgoose Architecture 29Buildings, Maintenance & DevelopmentAccess4Lofts - Crewe 9Prestige Roofing Cheshire 13TTL Building & Maintenance 29Carpets & Flooring FittersUnlimited Carpets & Flooring 2Community, Education, Classes & ClubsProbus Sandbach 23Crafts, Gifts & RetailLowes Farm 21Plumley Garden Centre 11Spark Lane Nurseries 10ElectriciansFully Wired 23Estate Agents & PropertyStephenson Browne 1Food & DrinkHalton Farms 17Furniture & Home DecorationsThe Design House 15GardeningRSC 18Hair & BeautyPyramid Aesthetics 18Jewellery DesignerJohn Pass Jewellers 40Kitchens, Bedrooms & BathroomsM6 Bed Warehouse 5ROK Plumbing Supplies 18Legal & Financial ServicesJP Goldman 3Sanctuary Tax & Trust Services 19The Happy Will Company 26LocksmithsLockforce Mid & South Cheshire 38Motoring, MOT & Vehicle SalesSandbach Motor Factors 9Opticians & Hearing AidsCongleton Hearing Centre 6Holmes Chapel Hearing Centre 39Plumbing, Heating & Boiler ServicesW-Heat 6Removal Services & Household ClearanceMonster Junk 38Residential Accommodation & CareAblewell Care 25, 33Blueberry Care 26Windows, Doors & ConservatoriesDistinctive Windows 7Ready referenceAll adverts are printed in good faith. Whilst all reasonable care is taken to ensure the accuracy of the information in this magazine, the publishers also accepts no responsibility for the accuracy of statements and opinions expressed by contributors or advertisers, for any loss arising from non-publication of any advertisements for the contents of the advert the services provided by the advertisers or for any errors or omissions in either the editorials or the advertisement published.Remember, if you contact an advertiser, let them know you found them in Go Local
Page 39
Middlewich01606 259 646info@middlewichhearing.comEstablishedSept 2010Hearing loss has a very negave impact on peoples lives, downsides of an unreced hearing loss can include: • withdrawal from social situaons• future mental decline• diculty hearing friends and family So, if you buy a voucher for £100, we will send a £200 voucher to your chosen recipient. Alternavely – treat yourself! Vouchers must be purchased by 25/12/2023 and used by the end of 2024.If you buy a voucher to be used towards our latest hearing technology,we will double it! (up to £250).Holmes Chapel01477 533 620info@holmeschapelhearing.comParking available at both locaons · Home visits availableWhat beer gi is there to give this Christmas?We are here to help! GIVE THE GIFT OF HEARINGTHIS CHRISTMASAlso during December we will be doing wax removal for £25 per ear.Merry Christmas!
Page 40
The new Pandora collection has arrived at John Pass. Ifyou're looking for the perfect gift to unbox this Christmas,visit us at 179 Nantwich Rd, Crewe CW2 6DT.www.johnpass.co.uk